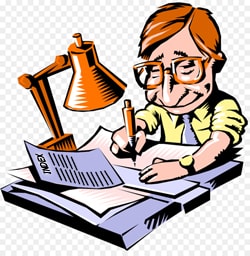 Indexing books could be a profitable home business. The one who indexes books is called a book indexer. These are 10 important tips every indexer should know before starting his book indexing career:
1. Skills & Talents:
To succeed in this job you must have good skills and talents. Skills like excellent language skills and a high reading comprehension. Talent of analyzing what you read, extracting the right & useful data from it. Talent of meeting deadlines. In addition; if you have good knowledge for the subject that you're indexing, that'd be an advantage for you.
2. Indexing rates & time delivery:
Publishers pay between $3 and $6 per each indexed page, so a book having 300 pages would cost from $900 to $1800 to be indexed. Such a book would require 10 days to deliver its index. That's the common pricing & time delivery known in the publishing world.
Note

: We have a professional indexing team, and we offer much more competitive prices than this. You can check our indexing services page for more details.
3. Training:
Indexing books has many rules and conventions, so if you're ready to start this career as a profession, then you'd better get a good training. You can self study by reading a book like
Indexing Books, 2nd Edition
, or you can have a video training (A course could cost $500 at least), like
ASI training
course, or
Indexing: An Essential Art and Science
course.
4. Book final draft:
Never start indexing a book unless the book is in its final draft, with accurate page numbers. You must confirm this with the book author before starting your work. Making last-minute changes in book proofs will mostly affect its pagination, and  as a result will ruin your index and some or all of the collected page numbers for the indexed terms.
5. Book indexing software:
Every book indexer should have a software to help him organize his indexing work, easily make changes, handle header & sub-header entries, cross references, footnotes, etc. That's why we have invented the
PDF Index Generator
software. It's the best book indexer companion.
6. Where can i find book indexing jobs?
You can start with freelancer websites, like
Freelancer
. You will find many book indexing jobs there, but you should have a strong profile, and request low fees at the beginning of your career, because you will find strong competition out there. You can also start contacting publishing companies through LinkedIn, offer them your index samples & determine your rate. If you're able to make a contract with a publisher, that will guarantee a good annual salary for you.
7. Before starting an index job:
It's important to do the following before you start indexing a book:
First, you should skim the book, be sure it doesn't contradict with your beliefs and morals, so that you won't feel embarrassed while indexing it.
You should provide the author/publisher with a cost & time quote that you're 100% sure you can deliver the job for.
Get a confirmation from the author/publisher that the book is in its final draft, and that it has accurate page numbers.
Does the author/publisher require specifications and rules for the index? For example:


How many index columns per page for the index to use?
Will the author provide a list of terms to index, or should you handle this by yourself?
Should the index not exceed a specific number of pages?
Should you use use one level of sub-entries, or you're allowed to use more?
What formats should the index be delivered in?
And so on…

Ask the author/publisher to fund the project with 10% to 50% of the project total cost to prove the seriousness of the job deal before you start working.
8. Your index profile:
This is your marketplace. You should have a strong profile with professional index samples that authors/publishers can reach easily to check your completed indexing work. Create a website to easily access your profile data, a LinkedIn account. Putting links to Amazon books that you have indexed should be very helpful for your visitors.
9. The customer is always right:
Well, that is not always right! .. Especially in a technical field like indexing books. After delivering the book index you will surely receive many requests for index modifications. Some of those requests might not be convincing to you, or might break the indexing common rules or formatting. You should first try explaining this to the author/publisher, but if he insists, then the rule comes right "
The customer is always right
". The author is surely more experienced about his book, so if it's his demand, then do it on his own responsibility.
10. How do i know if i'm a good book indexer?
The best way to know this is if you have a returning customer. If you have indexed a book for someone, then after a while he's contacted you once again to index another book for him, then surely he liked your indexing work, and you're moving on the right track. Go on and proceed with your indexing career.
If you're interested about a helpful way for building and writing the index to your book, then check our program "
PDF Index Generator
". It will help you create and write a professional index to your book, with many editing options available, and many stylish themes available that you could use. You can test PDF Index Generator for Free from
here
.