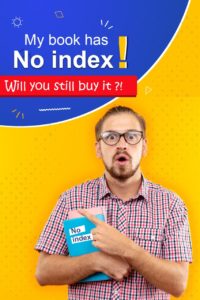 The short answer is "No". You should not skip the index section if you want your book to succeed.
Imagine that you have written a home medical book guide. Sarah, is a mother who purchased your book, and one day she had to stop her child's arm from bleeding, after an accident she had. She rapidly opens your book. She has no time to examine the book content, so she moves to the index section. As anxious as she is, she looks for the term that comes to her mind "
stop bleeding
" or "
bleed stopping
". Due to your hard work in establishing the best index for your medical guide, In the "S" section of the index, Sarah easily finds the first term that she thought about "
stopping bleeding
". Sarah moves to page 231 in the guide where that term refers to in the index, and she was able to take care of her child's injury in a matter of minutes, because of the reliability of your book and its index.
Now, suppose in the above situation that Sarah opens your home medical book guide, and tries to find the index section, however, she then realizes that there is no index guide! … That will give her impression for how terrible your book guide is! … So, saying that you do not have time to write an index for your medical guide is surely not an excuse for such situation!
You might now say: "
I'm now convinced that i should create an index section for my book, but still, i haven't got time to do that. Furthermore, index building is a very tedious and time-consuming task. I'm not an index builder; I'm a writer!
" … I have two easy suggestions for organizing your book index:
We have created a book indexing program called PDF Index Generator to manage and organize your book index tasks. Simply follow its four steps to obtain a professional index. You will need some time to learn how it works, but if you index a lot of books, you will get used to how it works. It will save you a lot of time over doing it by hand, and save your money. You can test the program yourself by downloading its trial edition, which is fully functional, but it just indexes the first 10 pages of any book that you choose. That should suffice you to determine whether or not the process would be straightforward for you to accomplish. You can start by watching the video tutorials to understand how to use the program.


We have also set up a book indexing team to build your book index without you having to do anything. This will save your time, rather than completing such a time-consuming task on your own. Our extremely low prices are the biggest benefit for this. Unlike other indexing services, we determine our costs based on the amount of words in the book rather than the number of pages. That implies you only pay for what you have. We've indexed 300-page volumes for as little as USD 200, perhaps less.


It's now your choice to make the correct decision! Whenever you get the chance, send us a
message
and we'll send you an estimate for the amount it would cost to construct your back-of-book index!